Designing a Nursery for a Growing Baby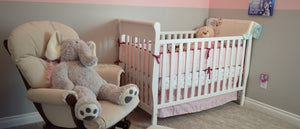 One of the best things to do for your baby is to provide an environment that will grow with them.  Children spend a lot of time in their rooms growing, playing and creating lots of memories.  How much more precious it would be for that room to be designed to grow with your baby so they can enjoy a nurturing environment for as long as possible.  My goal is to help you with a few tips and tricks to help you design an accommodating and development-focused nursery for your growing baby.    
In the first part of this blog we are first going to consider a few things to consider before you start planning the nursery design.
COMFORT
A baby's comfort, more than anything, should be a paramount factor to consider when designing a new nursery.   Just like for an adult, a baby's room should be a place where they can relax and feel comfortable.  You want to consider ways to create a soothing environment that will make your baby have a great night's sleep and nap with ease.  One way you can do this is by choosing a color scheme that will grow with the baby.  A huge part of that decision will be based on whether you have a boy or girl, but keep in mind also that you will want a color scheme that will also grow with the baby.   Selecting a warm neutral color palette can help with this.  As the baby grows it will be easier to switch and add things to the baby's room that will complement a neutral decor.
SIMPLICITY
Keep the design simple.  That is so hard to do when designing a baby's nursery.  Besides all the things that you will need to have in your baby's nursery there are so many more things that you will just want to have.  When it comes to a new nursery there are so many options available that its really hard not to go overboard and include every possible design element you can think of.   Keeping it simple allows for you to easily change or add things later as your baby grows. Keep in mind that you want to include things that are child friendly and not necessarily childish so as your baby grows the room will grow with them. 
NON-TRADITIONAL
Don't be afraid to select things that were not necessarily made for baby's nursery.  It will be so much easier to have a nursery that will grow with your baby if the design elements are not nursery specific. Select furniture, rugs, wallpaper, and even lighting that can easily be incorporated into the ever changing decor of the room as the baby grows. As your child grows and starts to express their own personal preferences for their rooms design it will be easier to incorporate their new found interest into the existing decor.   
Now that we have looked at a few factors to consider, lets consider a few tips that can help with designing a nursery for a growing baby. 
Minimal Themes.  Going with a trendy theme or incorporating to many themes into the design may be overwhelming.  Keep it simple and incorporate a more traditional design.  Instead of going with characters, choose sophisticated patterns for the design that can grow with baby.
Convertible Furniture.  A convertible crib that can later be converted to a daybed is the perfect solution for transitioning a toddler as they grow older without having to make an additional investment.
Swap Furniture.  Rather than investing in a changing table and dresser, instead opt for getting another dresser which will provide the space you will need to for more clothing you are going to get as the baby gets older.
Wall Art or Stickers.  Use eco-friendly wall designs, decals and/or wall art that can be easily swapped out to meet the baby's ever changing taste as they grow older. 
Wallpaper or Paint.  For a nursery that will grow with your baby, choosing paint over wallpaper is the best choice. Its a lot harder to incorporate a new design with existing wallpaper plus its not so easy to remove.  On the other hand a wall can easily be repainted and neutral wall colors will incorporates easily as a backdrop to any new design or accent pieces that is introduced or swapped out in the decor.
Your baby's nursery is a room they will grow into so making it a room they will love to spend time in as they grow older is very important.  Hopefully the few tips I've provided will give you some ideas that can help you get started right away.
Chey,
The content contained in this blog post reflects the personal views and opinions of the author and was solely provided for informational purposes only. KinderSuite or any employee thereof is not responsible for any inaccuracies of statements made therein and will not be held liable for any errors or omissions or damages arising from its display or use.  Any opinions expressed by readers leaving comments are theirs alone and do not reflect the opinion and/or views of KinderSuite and it's staff.
Like this Post? Get Free Updates. Sign up for our Newsletter below
Leave a comment
Comments will be approved before showing up.