DIY Decor To Decorate Your Child's Room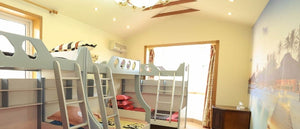 If you have kids, more than likely you have a budget. This is all the more reason to find creative do-it-yourself projects and ways to decorate their room. Start first by working with your kids to match these projects with their interests. This is going to make decorating their room much easier, and it's going to be much easier on your wallet too.
Consider skateboards if you have a son or a girl that's a tomboy. Take the wheels off the bottom and smooth it out with a piece of sandpaper. You can screw in pieces of wood to make a table. Or, you can buy metal brackets to make a skateboard bookshelf that fits above their desk. This is the perfect place to store books, toys or their alarm clock. Take it a step further and drill holes in the skateboard, moving a bar through three to five skateboards to form a skateboard bookshelf.
Pallets are another easy do-it-yourself project if you can get them. Local shopping centers or distribution centers may give them away for free or at a discounted price. An easy project for your child's bedroom would most likely be a bookshelf. There are different designs and patterns in which you can follow to make your project. You can build a tall bookshelf that has shelves different lengths or widths, for instance, or a bookshelf that resembles a shelf that you may see in a store. Pinterest is a fabulous place to get instructions and ideas for the shelf you like best.
Monogram letters, too, are really popular among kids. Let your child bring out their creativity with their first initial. Carve out their letter in wood, if you have the aptitude or skill, or purchase it from a craft store. Then, give the child paints, glitter and anything else they would need.  If the initial is big enough, purchase smaller letters to glue onto the bigger letter. For instance, let's say your daughter's name is Alba. You would purchase at least a six-inch letter A, while you purchase smaller letters A (2 of these) , L, and B. Once the larger monogram letter has dried, these letters get glued onto the monogram going down (or across) one side.
Another fun idea is to give your child their own place where they could read or study. If your child shares a room, this is especially important. It's possible to make a fort out of PVC pipe, attaching curtains on all sides. Another idea is to hang a shower rod from the ceiling with a curtain in a corner, while putting pillows on the floor on the floor. It's not as private, but it gets the job done. Both of these ideas will give your child the quiet study which they are craving from their sibling.
Finally, let your child have input in their room's decor. Let them choose their own paint color and assist in the painting of it. This gives them a feeling of  pride and accomplishment.   Allow them to pick out the wall decorations for their room, and other accessories like the lights and even their bedding.  It may not always be easy for a child to make a decision, but once they commit then they usually will stay with it.  There are a lot of great ways your child can help with making their room a bit brighter and cheerful.  If you include them in the process and allow them to personalize it to their own interests then they'll be all the happier.
Chey,
The content contained in this blog post reflects the personal views and opinions of the author and was solely provided for informational purposes only.  KinderSuite or any employee thereof is not responsible for any inaccuracies of statements made therein and will not be held liable for any errors or omissions or damages arising from its display or use.  Any opinions expressed by readers leaving comments are theirs alone and do not reflect the opinion and/or views of KinderSuite and it's staff.
Like this Post? Get Free Updates. Sign up for our Newsletter below
Leave a comment
Comments will be approved before showing up.