Fight germs using your own homemade DIY disinfectant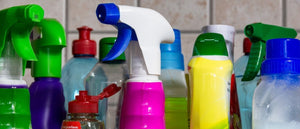 In the early stage of the Covid 19 pandemic and for many months after, finding disinfectants like Lysol or other similar brand name supplies to clean your home became almost impossible.  Store shelves were bare and it was really difficult to find and buy these items on the internet.  Many families had to resort to making their own DIY detergents to keep their homes safe and clean.  In this month's blog we decided to share four very popular homemade DIY disinfectant recipes found on the internet that you may also want to try.  
Looking for something made from natural ingredients that has the benefits of Lysol?  This recipe uses vodka and essential oils combined with water to make a disinfectant spray that can be used on most surfaces.  It's recommended that you use 100% USDA certified organic essential oils in your recipe and the added benefit of using essential oils is they leave your home smelling great.
For this all purpose cleaning spray vodka is replaced with plain distilled white vinegar that is combined with essential oils and water.  Except for marble, granite and stone countertops, this combination may be used on many household surfaces.  There is also a list of recommended oils that can be substituted to your liking.  
A combination of rubbing alcohol and plain distilled vinegar in this natural recipe is the next contender on our list of natural DIY disinfectants.  Vinegar is a popular ingredient in natural recipes because it is safe for humans and rubbing alcohol is great for sterilizing surfaces.  Combine the two and you have a powerhouse DIY Recipe.
The final homemade DIY disinfectant that we will include in our blog is the one recommended by Clorox.  Bleach is commonly used to clean and disinfect surfaces because it is very effective at killing germs and harmful bacteria.  It is probably the most popular method for disinfecting surfaces since it is widely used in homes, businesses, hospitals and schools for cleaning, sanitizing and disinfecting.
Chey
Featured photo credit: Willfried Wende from Pixabay
The content contained in this blog post reflects the personal views and opinions of the author and was solely provided for informational purposes only. KinderSuite or any employee thereof is not responsible for any inaccuracies of statements made therein and will not be held liable for any errors or omissions or damages arising from its display or use.  Any opinions expressed by readers leaving comments are theirs alone and do not reflect the opinion and/or views of KinderSuite and it's staff.
Like this Post? Get Free Updates. Sign up for our Newsletter below
Leave a comment
Comments will be approved before showing up.